Share This Page
Our CEO, Nicola Hawkinson, attended the NERVES 2023 Annual Meeting held in Marina Del Rey, CA. This event, organized by NERVES Admin, aimed to bring together professionals in the field of neurosurgery and spine care to discuss the latest advancements and challenges in the industry.
During the conference, the CEO of SpineSearch actively participated in panel discussions, networking sessions, and keynote presentations. We engaged with prominent industry experts, exchanged valuable insights, and established connections with potential partners and clients. Nicola leveraged this opportunity to showcase the expertise of SpineSearch and explore collaborations that could further enhance the company's recruitment services for neurosurgical professionals.
Attending NERVES 2023 provided SpineSearch with a comprehensive understanding of the current trends and future directions in neurosurgery and spine care. This knowledge will contribute to the strategic growth and development of SpineSearch, enabling the company to better serve healthcare organizations and job seekers in the specialized field of spine care.
Overall, our CEO's, Nicola's, participation in NERVES 2023 was a fruitful experience, reinforcing SpineSearch's commitment to staying at the forefront of the industry and fostering meaningful partnerships within the neurosurgical community.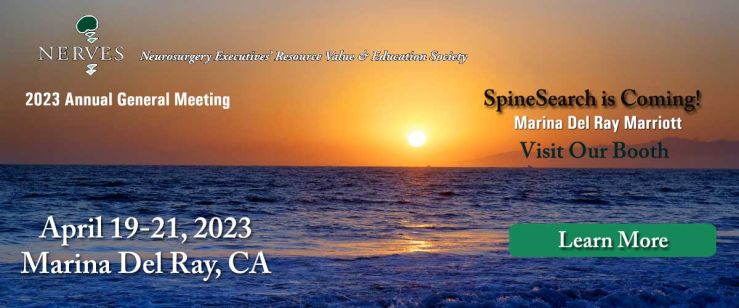 NERVES goes west to Marina Del Ray for this year's AGM and we'll be there.
Visit us in our Booth #11 or call our office now at 516-333-5050 to pre-book an appointment with our founder Nicola Hawkinson DNP, RN, RNFA. SpineSearch is the staffing and training solution founded by a Medical Professional!
---