10 Ways to Jumpstart Your Spine Practice Marketing Program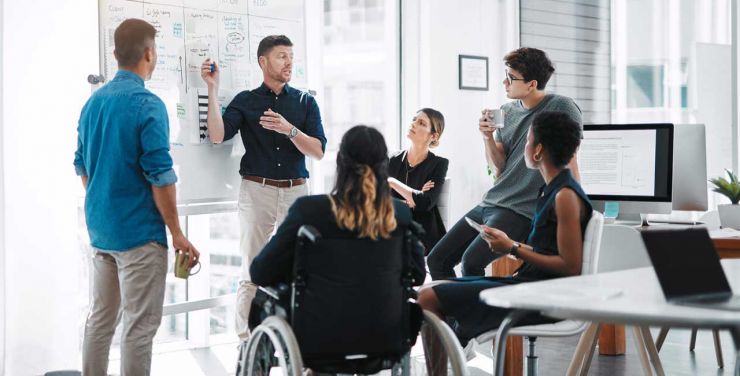 What is marketing, and how does it apply to your spine practice?
Medical practice marketing is now a fairly common concept for many physicians. Every practice should have a healthcare marketing strategy in place so you can market your practice better to current and future patients. How important is the marketing strategy in healthcare? It is important today than ever before; not only do patients use websites and other forms of social media to find physicians to treat them, but healthcare workers looking for jobs use them as well.
By definition marketing is the process of creating, distributing, promoting, and pricing goods, services, and ideas to facilitate satisfying exchange relationships with customers in a dynamic environment. The basic goal is to market your product/service in order to bring in new customers and therefore increase your sales. So what does this really mean in regards to your spine practice? Marketing for a new spine practice aims to provide information to promote your practice in order to attract new patients to your practice for care.
It is important to work with a clearly defined marketing plan and budget. Remember that marketing does not always have to be extremely costly. There are some really great ways to market your practice that are also very cost effective. Also, be creative in regards to your marketing efforts, the goal is to make your practice stand out from the competition. Read on to learn 10 tips on marketing your spine practice.
Do more of what works and less of what doesn't. Implement a data tracking system. When a new patient comes to you for care find out how they heard about your practice. Perhaps this is great question to add to your initial "new patient" paperwork. If you begin to gather marketing data, you can analyze the data in the future to learn what marketing tools really work to bring in new business. Analyzing your marketing referrals will allow you to allocate additional marketing dollars where it really counts.
Now a-days digital media is and will continue to be the wave of the future. If you would like your practice to have a strong marketing plan then there is really no way to avoid the world of digital media. The good thing is adding digital media to your marketing tool doesn't necessarily mean increasing your budget. Once again begin with evaluating the tools you already use, and stop spending money on programs that do not work (such as direct mail, and TV and radio ads). This extra money can then be used for digital media (adding a patient education section to your webpage).

Many social media platforms such as Facebook, Twitter, and LinkedIn are free to sign up for and to use. However, you may need to allocate additional manpower to manage your online accounts. Today we get our information from a much larger variety of sources than we used to and, consequently, we spend far less time on older sources (TV, radio, and print). Look hard at the online and offline channels you use to market your practice- can you validate how many people see these? Ask for data to analyze your efforts. Find out who and where your target market is and then test those markets. Before investing in a new campaign set goals for your practice. This will demand results and will allow you to know when to cut a program off when it is not being profitable.
Your website should always be growing and evolving. Constantly update and add to your website. The bottom line is that the web is the top source of information for all of your patients and potential patients. If you are doing any marketing at all, it most likely has your website address on the material. Some questions you should ask yourself about your website are: Does your website answer patient's questions about conditions, diagnosis, and treatments? Does it offer something about you other than a CV and a laundry list of whitepapers you wrote? Does it give value? And, of course, is it optimized for search?
Do you have a marketing strategy for mobile device users (smart phone, ipads)? If not, you could be missing out on a huge and exponentially increasing market. You can test this out by looking at your website on your smart phone. If it's tiny and has holes where the Flash graphics should be, then you need to worry. Your website should show up in a mobile-friendly format. This guarantees usage. If you have an iPad, have you checked your site on that? If your site isn't built to adapt to different size formats, you'll see a miniature version. People are on the go and are relying more and more on their mobile devices for information. Make sure you do not miss on the mobile market due to website incompatibility. If you decide to invest on paper marketing through mailers or phone/ bus kiosks you should include a "barcode" on your add. This barcode can be scanned using a smart phone and it will direct a person right to your company's website for more information.
Have you registered your practice with local directories? Local directories rank extremely high with search engines. They are also increasingly being used by mobile device users and are applicable to your geographic area and therefore your potential client base. Make sure you go to websites like Google Places to register your practice today.
Reputation Management: Have you googled your name, your partner's names, and your practices name? Go ahead and try it- hopefully you are happy with everything you see! Why wouldn't you want to control the information your current and potential patients see about you and your practice. Have you logged onto sites such as vitals.com, ratemds.com, healthgrades.... have you managed those reviews? If you have unfavorable information that pops up on your google search you may want to think about hiring a reputation management company. They will be able to create new press releases and articles that will be strategically released on the web. Eventually your unfavorable content will be pushed further and further back in the search pages. When searching online, most customers will only click on the first three webpage links and will not venture past the first search page.
Don't do everything yourself to save money. If adding a weekly blog to your website, and managing a new Facebook, twitter and linked-in account means that you will now be working 7 days a week- it may not be worth it. In this case you may need to hire a part time employee to take on these tasks. This will allow you to focus on patient care. If you lose the focus on your patient care standards then no matter how hard you market you will not be able to retain a happy client base.
Community Service is a great way to market your practice and you should encourage your staff to participate too. Start by looking up local events going on in your community, especially ones related to your spine practice. An example would be to volunteer with your local spinal cord injury association. Your practice can participate or sponsor an annual luncheon or walk/fundraising event. Set up an educational booth at the event. Events such as "Walks to Cure" usually draw in hundreds to thousands of local participants. Having your spine practices name on event banners, or giving out freebie items such as pens will to brand and market your practices name. If an event participant ever needs to see a spine doctor they will now be more likely to know your practice by name and dial your phone number to make an appointment. This is a great example of low cost marketing. Associations typically have no charge or a minimal fee for you to participate at events.
9. Open houses- whether you are opening up a new office or bringing in a new specialty or physician, it calls for a celebration! Host a local community open house. See about getting a local politician to join in the celebration and to bring more focus on your practice and event. You can order light refreshments for a minimal cost and will be able to meet member of your local community who may one day turn into a patient.
Free Health Screenings- offer a day of free back health screenings. Set up a free scoliosis screening or osteoporosis educational course for your local senior center or at your county health fair. The more visible your practice is to the community the more people will know you by name and walk through your door when there is a need.
Happy Marketing!