Hiring a Medical Office Manager
Share This Page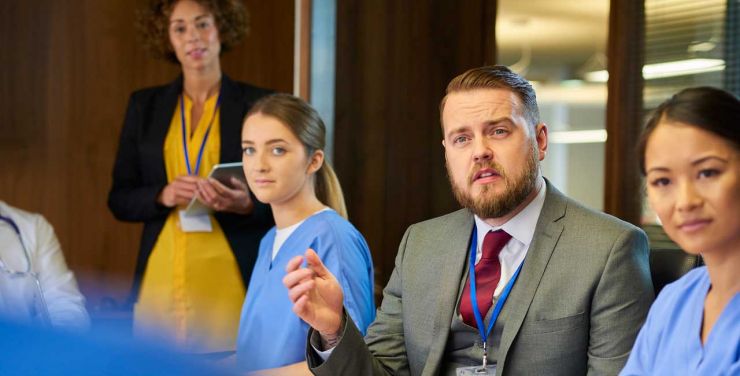 An outstanding medical office manager possesses a balance of business and clinical knowledge and skills. It is important that they can manage the medical support staff, properly keep financial documents and the overall ensure that the patient receives excellent health care. There are many areas to consider when profiling the best candidate for your practice.
Education
Due to the nature and responsibilities of the position, most medical practice managers have a high school diploma and a college degree (or even an advanced degree). Consider the current size of the practice and desired goal or potential size of the new practice this should be a factor in need of education for the position. For example, smaller practices may not be able to afford or require a candidate with an advanced degree or several years of experience, whereas a larger practice with many physicians and hundreds of patients may need a manager with an advanced degree like an MBA to develop more in-depth business plans.
Experience
While education is important, the candidate's previous experiences can truly testify to the skill set that they have developed. The practice's business needs will dictate the requirements for the applicant's background and previous job experience.
Successful Characteristics Seen in a Medical Practice Manager
Education and experience are very critical, but it is important to not overlook the role of employee interaction and personality blend with the current staff and working environment. Remember the medical practice manager will play a very renaissance position for the practice.
Here are some critical areas and matching characteristics needed:
Communication: The position will require clear communication with every person that interacts with the practice. This area is very fluid and may often require being the liaison between two separate parties. For example, communicating with the support staff the needs of the physician or communicating with a representative of a vendor the practice conducts business. No matter the parties involved the manager must aim to communicate effectively properly.
Leadership: This position will require the flexibility to lead the staff to ensure the practice workflow and productivity are always moving forward. A good leader is always capable of motiving the staff to work, building on their skill set, while also developing them by delegating tasks to capable people.
People skills: This position is individuals and patient care centric. It helps that the individual have an outgoing, friendly, and positive outlook when encountering patients or medical support staff. Consider that this position will also be responsible for mediating issues that may arise with a patient's dissatisfaction or even between two employees. The ability to quickly resolve conflicts while demonstrating empathy is very necessary.
Organization and productivity: This position area is important because the manager must oversee patient care, financial responsibilities, all while streamlining processes to make the work output efficient.
Sample Questions to Ask When Hiring A Medical Practice Manager
1. Why do you want this medical practice job ?
Look for enthusiasm from the candidate about the job, the skill set they are bringing to the table and how they discuss the role of helping others

2. What have you learned from mistakes or errors you have made in your last/current position ?
Try to direct the conversation towards allowing them to explain a mistake or error that they recognize from the past. Also allow for them to discuss what they learned from issue and even how it made them for today.
Red flag alert: If the candidate does have any specific example to share that is a problem, there is always room to grow, it is important to able to assess their strengths and weaknesses. If the candidate complains about previous or current boss that is a problem too, it marks a level of unprofessionalism.
3.What challenges or projects are you looking for in this position?
This is great time for the candidate to express their skill sets and how they plan on using them for the practice.
4. Describe a typical work day and or week of your previous or current medical manager practice position.
Take this time to allow them to explain their tasks in detail. Look for them to connect their past experiences with current positions while they focus on their work related routine.
5. Ask them to describe their idea of a successful day or work week.
This is important because this position requires self motivation, self awareness and self improvement. It is also a great time for them to show that they are team focused and driven.
Red flags: If they are unable to define success for themselves or the practice. If they are unable to discuss how they help others and contribute to a team environment.
6. What is your biggest weakness?
Yes, this is a very typical question, but it is important that the candidate clearly articulate that they are aware of their shortcomings and how they take are learning to strengthen their skill sets.
7. Why should we hire you for this position?
The question provides the candidate with the opportunity to tell what sets them apart- a combination of� their personality, skills, education and previous background that make them the ideal fit for the job position
8. Why do you want to work at the specific practice?
This is an opportunity for the candidate to discuss what they know about the practice, the culture of the practice and culture of patient care