Share This Page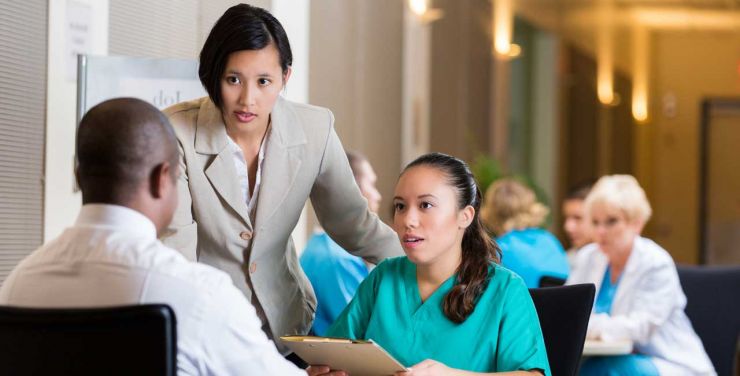 Employee retention is challenging in the current healthcare environment. Millions of dollars are invested on developing services geared towards creating a memorable and satisfactory patient experience, facilities upgrading, and creating a concierge medical environment but a major facet of creating a satisfactory patient experience is committing to hiring, developing, and maintaining a high quality physicians and surgeons.
The high cost of turnover should take into account not only the advertisement and fees for recruitment, but also the amount of time it takes to train an employee, and the cost of business lost from the time an employee leaves to the amount of time it takes to hire a new staff member.
Training & Growth
Well-trained employees feel confident and knowledgeable in their roles, and thus happier in their jobs. Make sure your practice has a comprehensive employee manual and everyone has a copy of it. Give each employee a thorough job description on the first day that covers major tasks and expectations. Offer to pay for cost-effective online training programs to encourage your employees to grow professionally.
Highly driven employees need to feel their personal goals and development are being recognized and acknowledged by the practice or hospital. Employees who want to get into management tracks should be given the opportunity by increasing responsibility. Allow your employees to take on more difficult tasks and help them succeed in their goals by providing them structured work plans and routine meetings to monitor their progress. As managers, the responsibility of developing an engaged work force starts by recognizing each individual's personal learning styles and rate of understanding.
Compensation
Compensation is one of the most important factors for retaining staff. Most disgruntled employees are often time upset about not be compensated properly. Offer more than an annual cost of living adjustment to your more productive employees. You should also make sure that the PTO and vacation time is competitive. It is always worthwhile to focus your time and money on employees that deliver the highest value.
Evaluate your benefits package and see if you can offer extra time off, flexible hours, free parking, or gym memberships. Create an employee of the month program to recognize outstanding work. Set individual or group goals and reward the achievement of those goals with gift cards, gas cards, movie tickets, or lunch.

Communication
The nurses and midlevel employees are vital players in the deliverance of healthcare. Training providers to develop and retain positive relationships with the healthcare team is an essential component of creating a positive workplace. Encourage providers to show appreciation to staff members for their hard work and commitment. Buying thank you cards for a job well done with a difficult patient or recognizing someone in front of their peers goes a long way in nurturing trust and self-worth. This attributes directly to employees feeling connected to their company and an increased sense of accomplishment.
Physicians should always speak to their employees. When you see them, address them by name. (Institute name tags, if you have to.) It's fairly easy to visit with your medical assistant or nurse, but go out of your way to say "hi" to your front-office employees and your business staff. Meet with new employees briefly and find out a little about them. In addition, make sure your office manager is readily available to talk to staff, particularly when they have an issue or new ideas. Retention
Everyone needs to know what to do and how well they're doing. Seems simple, but good communication is often lacking in medical practices and hospitals.
Recognize good work
When a day runs smoothly, tell your nurse and your receptionist what a good job they have done and mean it. When collections are going well, let the billing staff know that you appreciate it. In a bigger office, consider awarding an Employee of the Month, nominated by peers and announced to all employees. Any award will be greatly enhanced if a physician takes the time to deliver it face-to-face.
To do well in their jobs, employees need an accurate job description and an annual review that lets them know how they are performing and what they can do to improve. When good or bad things happen to patients outside the office, be certain to let staff know promptly. Don't drift past them in the office and let them find out some other way. By keeping staff informed, you communicate that you think they are a valuable part of the team and important to patients. In return, most employees will go the extra mile for you over and over again.