Scribes in Your Neurosurgical Practice
Share This Page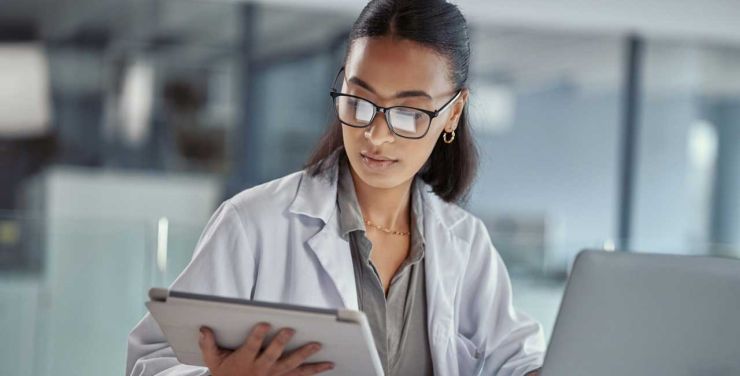 By: Nicola Hawkinson, DNP, RN, RNFA
Medical scribes have become an integral part of physician practices. Utilization of medical scribes in hospitals and private practices is becoming more commonplace since the advent of EMR systems. Physicians have learned that employing scribes to assist with EMR navigation will directly improve patient satisfaction and quality. With the help of a medical scribe, doctors can think medically instead of clerically. With a fast approaching deadline (2015) to become paperless or be subject to Medicare penalties, the demand for scribes is on a sharp incline.
Readiness
Clinician readiness for a scribe depends on how the practice is functioning on a day to day basis. Understanding current practice flow and documentation processes will help ensure a positive and productive work environment. If data is not being documented accurately, wait time is increasing, and physician morale is low, it might be time to considering hiring a scribe to alleviate these stresses. Once you have determined that there is an inherent need for a scribe you can start recruiting. Specifically outlining the job duties and responsibilities during the recruitment process will help cut down on unqualified candidates. Remember:  the scribe is a part of your practice rather than an extension of your EMR system.
Recruitment
A scribe is generally an unlicensed individual with an interest in healthcare. Experienced medical assistants or pre-med students are possible candidates for scribing. The more experienced candidates are with EMR, the better suited they are to be a scribes.  EMR systems have come under heavy scrutiny in the last few years, partially because doctors do not always find them to be user-friendly. Finding a candidate who is comfortable with technology and working in a fast-paced environment is key during the recruitment process. When a scribe is hired there are many factors to take into consideration. How much experience does the scribe have? Is he/she familiar with EMR systems? Will the scribe make the physician more efficient on a day to day basis? Ultimately a scribe should be an asset to the practice rather than a hindrance. 
Training
Physicians have found it difficult to receive proper training for EMR due to their busy work schedule; a scribe can help the physician become better acclimated with the system. During the training process the physician will be able to see how the scribe handles the daily workload and responsibilities. The physician has the unique opportunity to train the scribe in a way that will be most beneficial to his/her daily routine. Physicians have reported seeing two to three patients more per hour after hiring a scribe affording them increased patient flow and satisfaction. Before scribes physicians would have to fill out paperwork after hours and there is a lapse in detail hours after the encounter. The difficulty of completing medical charts during a shift adds extra stress to the doctor's schedule. Close scribe-doctor relationships are beneficial to all parties including the patients. Since the scribe and doctor are working closely together the scribe may become aware of the doctor's habits, both good and bad. On one hand, the scribe could be observing what the doctor is doing well and what's working; on the other hand the scribe also becomes privy to bad habits that might be affecting patient satisfaction. In this case if the scribe and the doctor have a good relationship there is an opportunity to provide feedback in order to help improve the doctor's bedside manner, organization or disruptive behaviors.
Efficiency
Doctors are not data entry specialists and increased burnout could lead to problems down the road if they are losing productivity during the work day. Scribes relieve documentation overload allowing physicians to increase patient volume efficiently. Determining the cost effectiveness of a scribe depends on the level of experience and familiarity with EMR. Typically a scribe makes between $10-$25/hour. When used efficiently, these employees will more than cover their salary (and benefits) cost through increased patient visits. Please note: The doctor still needs to sign-off on the data collected at the end of the day, but this takes far less time as compared to performing these functions independently.
Integration
Lastly, integrating the scribe into the practice starts with recruiting and ends with establishing the scribe as a member of your team. A scribe is not meant to be another fixture in the room; they serve an important function to the overall documentation of the appointment. If the scribe and the doctor are out of sync, then the documentation will reflect that. It can be challenging to learn medical terminology and coding procedures; the physician needs to take the time to train the scribe in such a way that will be beneficial to him or her. Doctors who are managing their own medical records are not making the best use of their time; adding a scribe to the staff is one way to alleviate stress and increase your bottom line.
Healthcare has and will continue to be in a state of flux. Neurosurgical practices nationwide are striving to do more with less, while maintaining compliance, satisfaction and quality. During this period, and in response to the challenges associated with the interaction of EMR systems, Medical Scribes has moved quickly to the forefront of staffing needs for many. Utilization of these employees serves to improve patient flow, allow the physician more patient facing time, ensure documentation and billing compliance, and continue to provide high quality care.  If you have any further questions regarding Medical Scribes please contact us.
Originally published in NERVES in 2014.
(Neurosurgery Executives' Resource Value and Education Society)

More about Medical Scribe Utilization