Share This Page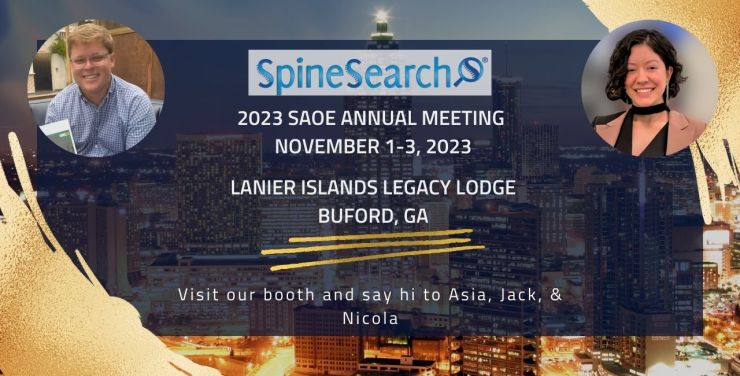 SpineSearch's CEO, Nicola Hawkinson, to Attend SAOE 2023
SpineSearch is proud to announce its participation in the upcoming 2023 Southern Alliance of Orthopaedic Executives (SAOE) Annual Meeting. The event, scheduled from November 1-3, 2023, will be held at the picturesque Lanier Islands Legacy Lodge in Buford, Georgia.
SpineSearch's CEO, Nicola Hawkinson, will be present at this significant gathering. She will be joined by Asia and Jack, adding their collective expertise to the event. The SAOE Annual Meeting offers a remarkable opportunity to engage with leading experts in the orthopaedic and healthcare industry. This event provides a platform for knowledge sharing, insightful discussions, and exploring innovative solutions that are crucial to the industry.
The preliminary meeting agenda is replete with insightful sessions and activities. Attendees can expect a wide range of topics that cover various aspects of orthopaedic practice management, including leadership, coding, and other critical areas. One standout feature of the conference is the presence of KZA instructor Jen Bell, an expert in multiple healthcare domains, who will share her extensive knowledge.
Nicola's presence at SAOE 2023 underscores SpineSearch's dedication to excellence in healthcare recruitment and practice management. Her participation is a testament to the importance of this event and its potential to bring valuable insights into the industry.
The SAOE Annual Meeting is set to kick off with a Board of Directors' Meeting, facilitated by Don Harkey from People Centric Consulting. This meeting is followed by an exhibit hall setup, offering attendees a chance to explore products and services from industry exhibitors.
On the first day, SAOE will host a series of essential sessions, including a panel discussion on transparent leadership and a networking reception in the exhibit hall. These activities foster collaborative and informative environments, ensuring that attendees gain valuable insights and connections.
The second day promises even more with sessions like "Creating A People Centric Culture" by Don Harkey and "Leading the Pursuit of Quality & Safety in Your Organization" led by Gerald Hickson, MD. These sessions will delve into crucial aspects of practice management that are vital in today's healthcare landscape. The day ends with a networking reception in the exhibit hall, allowing attendees to engage with industry professionals and peers.
The final day features sessions on topics like "Helping Medical Providers Navigate the Complexities of Workers' Compensation" and "Partnering with Physicians to Make Your Practice Better," led by Don Harkey. These sessions offer practical insights into enhancing practice management and the healthcare experience.
The SAOE Annual Meeting is a platform that brings together experts from various facets of orthopaedic practice management, providing a unique opportunity for learning, networking, and collaboration. SpineSearch is thrilled to have its CEO, Nicola Hawkinson, along with Asia and Jack, representing the company at this prestigious event.
SpineSearch looks forward to engaging with fellow industry professionals and experts during SAOE 2023, strengthening relationships, and contributing to the continuous advancement of healthcare recruitment and practice management.
For more information on SAOE 2023 and the exciting sessions and events lined up, please visit the official SAOE Annual Meeting website. Stay tuned for updates and insights from SpineSearch as we actively participate in this prominent industry event.
---