Share This Page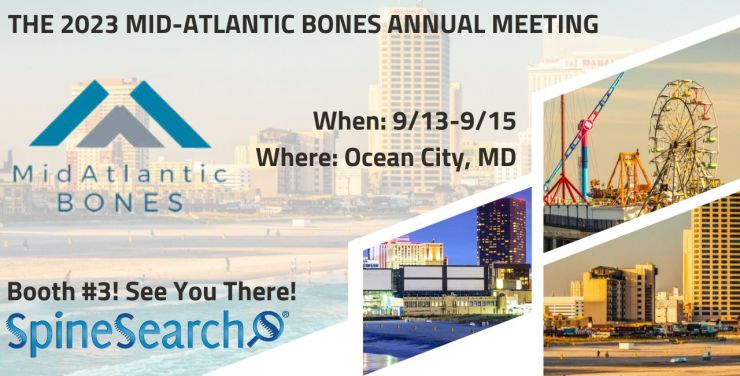 SpineSearch Debuts with Dynamic Presence at the 2023 MidAtlantic BONES Annual Meeting
Amidst the tranquil coastal backdrop of Ocean City, MD, a new chapter is set to unfold in SpineSearch's journey towards excellence in the field of healthcare recruitment. The 2023 MidAtlantic BONES Annual Meeting, scheduled from September 13-15 at the Grand Hotel, will mark SpineSearch's inaugural participation in this esteemed event. With Michael Todisco, a familiar face from AAOE 2023, and our seasoned exhibitor Asia Flood at the helm, SpineSearch is gearing up to make its debut with a dynamic presence that promises to leave a lasting impression.
The MidAtlantic BONES Annual Meeting serves as a compelling platform where leading professionals in the orthopaedic and healthcare industries gather to engage in discussions, share insights, and explore innovative solutions. For SpineSearch, this event represents not only an opportunity to showcase its commitment to excellence but also a chance to forge meaningful connections and contribute to the ever-evolving landscape of healthcare recruitment.
One of the key faces that attendees can look forward to interacting with is Michael Todisco, a healthcare recruiter whose dedication and expertise have made him a recognizable figure. Having previously made a mark at AAOE 2023, Michael is no stranger to the power of effective networking and collaborative engagement. His presence at the MidAtlantic BONES Annual Meeting will undoubtedly offer attendees a chance to tap into his wealth of knowledge and insights in the healthcare recruitment domain.
Accompanying Michael is Asia Flood, a seasoned exhibitor whose experience and presence have become synonymous with SpineSearch's commitment to excellence. With her extensive understanding of the industry landscape and a penchant for fostering meaningful connections, Asia's involvement at the event is sure to create a lasting impact. Her presence reflects SpineSearch's dedication to facilitating meaningful interactions, forging connections, and providing invaluable insights that contribute to the advancement of orthopaedic and healthcare practices.
For SpineSearch, the 2023 MidAtlantic BONES Annual Meeting represents not just a debut, but a stepping stone towards fostering new relationships and expanding its horizons within the healthcare recruitment realm. As Michael and Asia take center stage, attendees can expect to engage in compelling conversations that delve into the intricate nuances of healthcare recruitment, the challenges faced by the industry, and the innovative solutions that SpineSearch brings to the table.
This inaugural participation underscores SpineSearch's unwavering commitment to delivering excellence in healthcare recruitment. By actively engaging with attendees, sharing insights, and cultivating connections, SpineSearch is poised to leave an indelible mark on the event and contribute to its collaborative and informative atmosphere.
As SpineSearch prepares to make its debut at the 2023 MidAtlantic BONES Annual Meeting, the anticipation is palpable. Michael Todisco and Asia Flood stand as representatives of SpineSearch's dedication to providing top-notch recruitment solutions that cater to the unique needs of the healthcare industry. With a passion for excellence and a drive to create meaningful impacts, SpineSearch is set to make its mark on the event, leaving attendees with valuable insights, lasting connections, and a renewed perspective on healthcare recruitment.
In the heart of Ocean City, MD, a new chapter in healthcare recruitment is set to unfold as SpineSearch steps onto the stage of the 2023 MidAtlantic BONES Annual Meeting. With Michael Todisco and Asia Flood leading the way, SpineSearch's debut promises to be a dynamic and impactful presence that echoes its commitment to shaping the future of healthcare recruitment.
---