Share This Page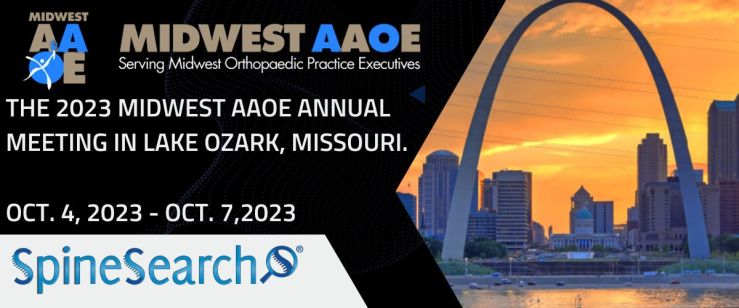 SpineSearch Sets off to 2023 Midwest AAOE Annual Meeting
As the leaves begin to paint a picturesque landscape in Lake Ozark, Missouri, SpineSearch is gearing up for an exciting rendezvous at the upcoming 2023 Midwest AAOE Annual Meeting. Marking our second consecutive year of participation, this event promises to be a pinnacle moment for our team as we bring not one, but two remarkable representatives to the forefront: Nicola Hawkinson and Asia Flood. With their combined expertise and dedication, SpineSearch is poised to make a resounding impact at this premier gathering of orthopedic practice administrators.
The Midwest AAOE Annual Meeting has become a cornerstone of our commitment to continuous learning and industry engagement. Last year, it was our esteemed Executive Assistant, Asia Flood, who represented SpineSearch with aplomb, immersing herself in the vibrant discussions and insightful sessions that define this event. Her participation was a resounding success, and it solidified our belief in the tremendous value that this gathering brings to the realm of orthopedic practice management.
Building on the momentum of last year's experience, SpineSearch is thrilled to announce that this year, both Asia Flood and Nicola Hawkinson, our dedicated CEO, will be in attendance. The dynamic duo is set to ignite discussions, share insights, and collaborate with fellow orthopedic practice administrators, further establishing SpineSearch's unwavering commitment to excellence in the field.
The Midwest AAOE Annual Meeting serves as a unique platform for professionals to converge and address the most pressing challenges and opportunities facing orthopedic practices today. From navigating the intricacies of practice management to exploring innovative strategies that optimize patient care, this event offers a comprehensive view of the evolving landscape.
At the heart of the meeting lies the invaluable opportunity to network with peers, engage in meaningful conversations, and forge lasting connections. SpineSearch recognizes the significance of these interactions and the potential they hold for collaborative growth and innovation. With both Asia and Nicola in attendance, SpineSearch aims to amplify its engagement, fostering connections that will ripple across the industry, ultimately benefitting orthopedic practices and patients alike.
The significance of SpineSearch's presence at the Midwest AAOE Annual Meeting extends beyond the immediate interactions. By participating in this gathering, we reaffirm our commitment to staying at the forefront of industry trends and best practices. We recognize the importance of continuous education and the role it plays in delivering exceptional service to the orthopedic community. Through engaging sessions, thought-provoking discussions, and sharing experiences, we are poised to contribute to and draw from a wellspring of knowledge that enriches our approach to practice management.
As we eagerly anticipate the upcoming event, SpineSearch is proud to embrace this opportunity to expand its horizons, deepen its insights, and strengthen its connections. The presence of both Asia Flood and Nicola Hawkinson exemplifies our dedication to fostering a collaborative and knowledgeable community within the orthopedic realm.
In conclusion, the 2023 Midwest AAOE Annual Meeting stands as a beacon of learning, growth, and collaboration. With the combined presence of two remarkable SpineSearch representatives, Asia Flood and Nicola Hawkinson, we are poised to make an enduring impact. As we step into this second year of participation, SpineSearch is committed to harnessing the opportunities that lie ahead, further solidifying our commitment to excellence in orthopaedic practice management. Stay tuned for the insights, connections, and moments of inspiration that will undoubtedly emerge from this enriching experience.
---